A PLACE THAT WARMS THE HEART
A Place That Warms the Heart
A Family Grief Center
Shreveport, LA

*A Place That Warms the Heart is an organization that provides support groups services in a caring and compassionate environment to allow each person in a family to grieve in his or her own way.
*These services are provided free of cost and are facilitated by trained professionals who listen and guide the participants on their journey.
*The groups are offered twice a year and meet for 8 weeks.
Send an email for more information to: placewarmsheart@yahoo.com
Spring Groups Begin March 12, 2013
There are separate groups for parents who have experienced the death of a child, parents and a mixed group for adults, and who have experienced a loss other than that of a child and parents who have experienced the death of a child due to SIDS, still birth or miscarriage.
Our other groups may include those for young children, teenagers and young adults.

Groups take place weekly on Tuesday nights for 8 to 10 weeks.
Groups meet from 6:30 to 8:30 p.m. at Emmanuel Baptist Church in the Family Life Center, 5850 Buncombe Road Shreveport, LA 71129
Please call 318-317-9329 for more information or to get a packet for the groups.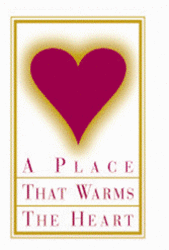 During times of grief, the fabric of our soul is torn... much like the finest cloth that has become threadbare. Our hearts search for places to rest and heal... as the threads are replaced with care and compassion.
Facilitators and Board Members
Kay Asher, MSW, LCSW
Kaitlyn Connor Jeansonne
Rhonda Connor, CRNA
Antoinette Gardner, RN, MEd
Jacquelyn Fultz Kirby
Mary Ellen Hoffman
Heather Odom
Leigh Peregoy, MSW, LCSW
Chris Pierce
Stacey Fuselier-Pierce, LPC, LMFT
Sherry Sterritt
Bettye John Tuminello, MSW, LCSW